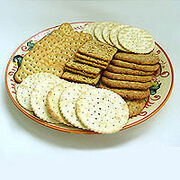 Crackers consist of a grain flour dough that has been baked. The result is a small, thin, crunchy snack that is usually lightly seasoned with salt or other flavors. Because crackers are firm, they make for the foundation of a great snack. Cheese, spreads, and fruit all are commonly placed on crackers.
There are many types of cracker ranging from Ritz crackers to oyster crackers to graham crackers. They all have different tastes, textures, and uses. Oyster crackers, for example, differ from traditional crackers because they are too small to put anything on them. They are used to add crunch to soups and chilis. Animal crackers and graham crackers are sweet, and are most often eaten by themselves or in dessert dishes such as s'mores.
Cheese crackers are also a very popular snack. Crackers like Cheez-Its and Goldfish crackers are most often eaten by themselves.
Crackers are also regional. For example, rice crackers are a very popular snack in Japan and papadum is popular in India. Matzo, a traditional Jewish bread, is also very similar to a cracker.
Community content is available under
CC-BY-SA
unless otherwise noted.